Meet Arizona Agriculture's Sloan Family
By Justen Ollendick, recently retired Arizona FFA State Officer: One of Arizona's pioneer farming and ranching families sat down to share their rich history of ranching from the northwestern rim of the Grand Canyon to farming the rural areas of central Arizona.
An interview with Harry and Lana Sloan, owners of Diamond SP Farms and Sloan-Compton Boer Goats.
Part of an ongoing series about Arizona's farmers and ranchers.
Tell us about your farm and ranching operations.
Growing up on a desert cattle operation in Kingman, Arizona was where it all started. We trained rope horses, which we have done for most of our lives. We farmed during the Jimmy Carter years and experienced the wrath of very high interest rates. We experienced having to re-budget to account for costs that had risen just to make it through those times. Eventually, downsizing was the path many had to take. With our desert operation, we couldn't really change that much. Water is and was our number one priority, and that could not change; so naturally, we had to accommodate for that. We operated on 1,700 sections which often required leaving at 3:00am to be able to get to our work site by sun up. The ranching led into helping us with our equine business. In training the horses, we were able to take horses off of the ranch, finish them and produce a "broke horse," and then find a buyer. We bought and sold a lot of rope horses over the years.
Harry and Lana Sloan, interviewed for this article, both come from a rich generational tradition of farming and ranching in Texas, Arizona, and California. Their roots run deep.
What changes have you seen in your lifetime as it relates to farming and/or ranching?
The changes that we have seen are not good due to the fact of governmental control. Whether it be the Bureau of Land Management (BLM) or whatever it is, there are a lot of people that feel like a rancher or farmer does not care for the land that we are here to just use it. That is not a fact. They do not understand it, and that has made a big change as to how you can try to accomplish your goals (i.e. crop/forage production, cattle production). So called 'environmentalist' don't realize that the farmer or rancher is the best environmentalist that there is. When I first started ranching, BLM fees were $0.19 per month for cow/calf operations. When we finally quit, it was $2.19. There were many factors that have played a huge role in government control. So overall, the involvement of government officials in developing restrictions and regulations has been the biggest changes that we have seen/been affected by.
Why did you choose to go into agriculture?
I don't know that we really had a choice seeing that we were born into it! It's more instilled into us than anything.
Will anyone in your family - younger generation - pursue farming and/or ranching?
Yes! Our daughter, son-in-law, and their children are already there. They raise numerous head of horses, as well as meat goats for 4-H and FFA expositions.
Would you ever consider growing an emerging crop or changing your farm or ranch model?
Yes, to a degree. So long as you could still maintain your goal of producing what you have envisioned.
What are your community activities? Why are you involved?
We are involved in livestock shows around the state of Arizona, raising and showing Boer goats. We sell what we don't keep to local 4-H kids and FFA students to raise as their project for their county fair, state fair, or any other expos that they attend. We hope that somewhere down the line that a child actually learns from their experiences and goes on in the agricultural lifestyle.
What is one fact/experience/achievement no one knows about you?
Harry qualified for the National Finals in Team Roping in 1973, and that was a huge achievement. Lana was crowned Miss Palo Verde in 1969, and was also involved in the royalty court in the Date Palm festival in eastern California. That was a lot of years ago, and it is fun to look through the old photo albums and article clippings and laugh about those hideous costumes we would have to wear to events!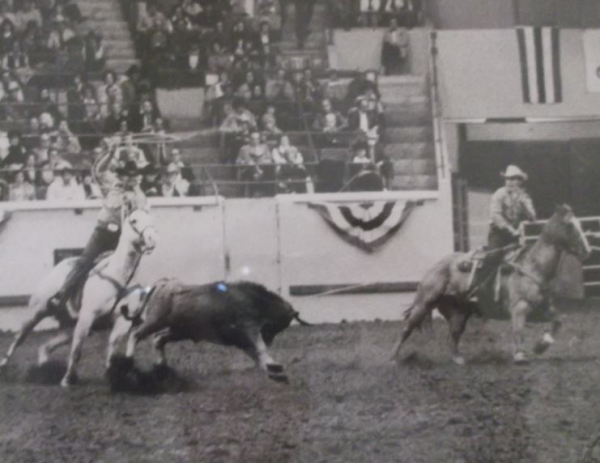 Harry Sloan (left) competing at the National Finals in Team Roping in 1973.
When Harry's family lived in Maricopa, his father had a contract with the U.S. Government to supply the Japanese internment camp at Sacaton, Arizona during World War II. He did this for the duration of the camp's existence.
What do you think you do really well? Explain.
Day-to-day operations are the backbone of our new enterprise in the goat business that we have recently started. Harry has done extreme research in finding the genetics that will work best with our stock, managing the cash flow, and what his herd produces and how they rank at shows. Yes, we have mainstream bloodlines. But I have found backyard junk that I can turn into a quality animal that will produce equally or better than any of this mainstream bloodlines that we pay TOP dollar to. We have done an extremely good job in that sense. Lana says she doesn't know what she does well, she just does whatever Harry tells her to do to stay out of trouble!
Why are you a farm bureau member?
Farm Bureau members help to encourage understanding in the general public where food actually comes from. There are benefits for places you shop at, but most of all, we love what Farm Bureau stands for. We have been members for 40+ years, and love it.
How will the next generation of farmers have to operate?
Wisely and efficiently. They have a tough road ahead with the prices of everything, how the government is regulating operations, and the climate that is ever changing. The bigger question is how do they cope with all of this? By the ability to work efficiently, being smart in decision, and keeping their end goal in mind and what they stand for as an organization/company. Produce as much as you can with a small amount, and hold onto your land.
The future is in the hands of our young agriculturalist, and we pray hard each and every day for them that they have it easier than we did.
Editor's note: When I asked Justen to do one of our Q&A series articles I had no idea he'd suggest Harry and Lana Sloan, our cousins. What a treat and a reminder to me that the Sloan/Murphree tradition of farming and ranching in this state is deeper and wider than I always recognize. Prior to the story coming out I mentioned this to Dad and Mom (Pat and Pennee Murphree). We had a sentimental discussion down memory lane; mom mentioning that she hoped Harry or Lana would mention his team roping achievement. While most may not always remember, family remembers. Love you guys!
Join our Family!