By Peggy Jo Goodfellow, Arizona Farm Bureau: Welcome to the redesigned Arizona Farm Bureau website. Arizona Farm Bureau is excited to announce the launch of a new, mobile-friendly website. The new website will allow you to read the latest news, opinions, and member benefits of the Arizona Farm Bureau as well as get easy online access to your member card and even pay your membership dues from any computer, mobile phone, or tablet.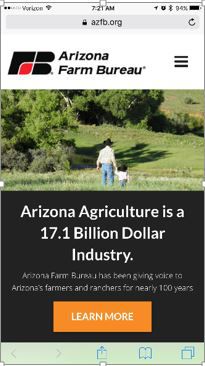 To get started, simply go to http://www.azfb.org and click the "Login" button (three bars) located at the top right-side of the screen to access your account. If you have an existing login from our previous site, you will now use the email that is associated with your membership to login – no need for a user name! Once you've input a password you'll have over 187 member benefits at your fingertips.
Don't remember your membership number? Download the FB Benefits app where you'll find an electronic copy of your membership card making it easy to have your card with you at all times and to show proof of membership…. it's on your smart phone!
With this app you can search by category, by name or browse the map for nearby benefits.
Members will enjoy the new website and the ease of access provided to them from the Arizona Farm Bureau.
Editor's note: For more information on our member benefits go to Arizona Farm Bureau's member benefits page online. Or, download the Member Benefits app to your smart phone for easy, everyday access to your benefits.