Membership Matters: For the Love of Cowboy Boots
By Peggy Jo Goodfellow, Arizona Farm Bureau Marketing Manager: You don't have to be a cowboy to wear and enjoy a good pair of boots. Whether you are buying cowboy boots, work boots or fashion boots with lots of bling you'll want to make sure you buy the right size. The first step is to try on the boots.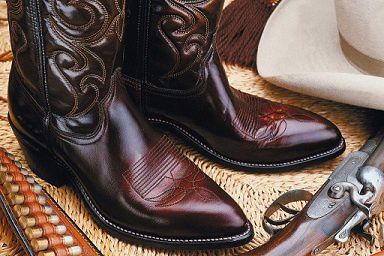 Boot Barn, a Farm Bureau member benefit provider offers these helpful hints to trying on boots:
It is recommended that you wear boot socks when you try on boots.
Standing up, place your fingers through the pull tabs on each side of the boot.
With the heel of the boot on the floor, insert your foot and give the straps a quick tug.
Your foot should resist a little then pop gently into the bottom of the boot.
The boot should hold the ball and instep of your foot like a firm handshake. The boot should not be so tight that there is pain or discomfort, but this part of the boot will stretch with use (except for some exotic skins), so a snug fit here is important.
Heel Slippage: As you walk in new boots, the heel of your foot MUST rise up away from the sole of the boot just a little bit. If your heel is rising up more than an inch the boot is either too long or too wide. Some rise is normal, and will diminish as the boots break in. This happens because the sole of the boot is very stiff, and doesn't flex quickly. As you wear them and the boot molds to your foot, this slippage won't be as noticeable.
When buying a pair of Work Boots you'll want to take notice of these helpful guidelines:
When you walk:
Your heel should not come up out of the boot or rub against the back.
Your toes should have about an inch of room in front of them at all times.
The sides of your feet should not feel painful pressure.
Your toes should not slide forward or hit the end of the boot.
Farm Bureau members have a couple member benefit discounts on boots. They can receive a 15% discount at all Boot Barn locations in Arizona and a 10% discount from WorkBoots.com using a special online Farm Bureau code.
Editor's note: For more information on our member benefits including our regional benefits go to Arizona Farm Bureau's member benefits page online. Or, download the Member Benefits app to your smart phone for easy, everyday access to your benefits.