By Peggy Jo Goodfellow, Arizona Farm Bureau Marketing Manager: Pickup Trucks rule the roost in American auto sales. The Ford F-Series consistently breaks records year in and year out in terms of units sold. You probably knew that, but the more shocking fact is revealed when you break sales down to a simple daily measure. According to a recent study by Automotive News Data Center, the Big Three pickup manufacturers (Ford, GM and RamTrucks) sell an average of 6,500 trucks every day.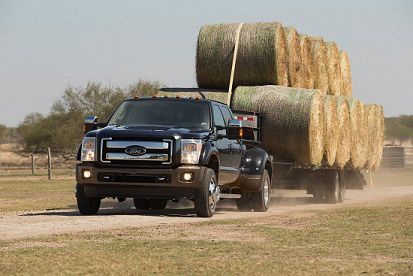 That's an even breakdown of units sold divided by 365 days in a year…equating to a figure that's pretty mind-boggling. That's 130 trucks sold in every state every day.
Collectively, the daily sales count per Detroit manufacturer is as follows:
Ford: 2,452
Cheverolet/GMC: 1,935
Ram: 1,647
Based on a 24-hour day, Ford sells 102 pickups every 60 minutes. Ram follows up with 69 trucks sold per hour and GM rounds things out with a still-impressive pickup per minute pace.
The Ford F-150 has been the best-selling truck for 40 years in a row, and it's been an overall top seller in America for 35 of those years. Remember, if you are a Farm Bureau member you could be eligible to receive $500 off a new Ford vehicle purchase.
Source: The Drive
Editor's note: For more information on our member benefits including our regional benefits go to Arizona Farm Bureau's member benefits page online. Or, download the Member Benefits app to your smart phone for easy, everyday access to your benefits.