Membership Matters: Do you Prefer Frozen Yogurt or Ice Cream?
By Peggy Jo Goodfellow, Arizona Farm Bureau Marketing Manager: In recent years, frozen yogurt has become a popular alternative to ice cream due to its reputation for being healthier. However, several factors need to be considered before deciding which frozen treat is best for you.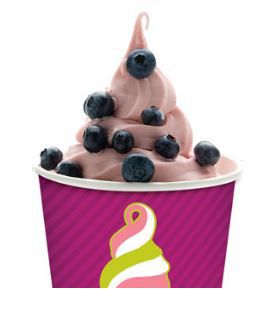 A delicious swirl of Menchie's Strawberry froyo is just what your sweet tooth craves! For a small cup (5 oz.) with blueberries (1 oz.): 115 calories, 11g sugar, 0g fat
"One of our favorite places to go for a frozen yogurt treat is Menchie's in Gilbert, said Niquie Robbins, Administrative assistant and mother. "I was very excited recently to see that they offer Farm Bureau members a discount at their Gilbert Gateway location."
Since the difference in the ingredients of ice cream and frozen yogurt is cream, the main nutritional difference is the fat content.
Let's compare the nutritional value:
One cup of ice cream One cup of regular vanilla frozen yogurt
275 calories 221 calories
5 grams of protein 5 grams of protein
31 grams of carbohydrates 38 grams of carbohydrates
15 grams of fat 6 grams of fat
9 grams of saturated fat 4 grams of saturated fat
If you're watching your fat and calorie intake, you may opt for frozen yogurt. Remember to moderate your portion size and choose the healthier toppings. Choose toppings such as fresh fruit, granola and nuts to get the antioxidants, protein and fiber. These toppings will also likely be lower in calories, fat and sugar than other toppings.
Editor's note: For more information on our member benefits including our regional benefits go to Arizona Farm Bureau's member benefits page online. Or, download the Member Benefits app to your smart phone for easy, everyday access to your benefits.