Peggy Jo Goodfellow, Arizona Farm Bureau Marketing Manager: Whether you're packing for the weekend or two weeks, there's not a need to carry more luggage than you need. With a bit of planning you'll be able to pack everything you need in one standard bag.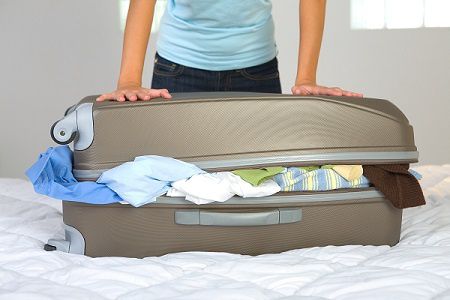 I know it's a rookie mistake but I tend to pack more items of clothing than I need. I've found that having a day-by-day plan helps. How much of what to bring depends on how formally you'll need to dress. Is it a business trip or a vacation?
Here are five general rules of thumb:
Unmentionables: Pack a clean pair of socks, undershirts and underwear for everyday.
Shirts or dresses: Pack two fewer than the total number of days on the trip. You can wear the same outfit on the flight back as yu did n the flight out and uou'll save two days worth of clothing.
Pants: a pair of jeans for every other day, slacks as needed.
Shoes: Two pairs of casual shoes (a pair of sandals and a pair of sneakers) a pair of formal shoes if needed.
Toiletries: If you are bringing your kit through security, be sure to get everything in travel-size bottles and pack them per TSA regulations. If you're checking them through, conisder sticking with the small bottles to conserve space.
For the return-trip be sure to pack a plastic bag for your dirty clothes plus a dryer sheet to combat odor.
Did you remember to book your hotel? Farm Bureau members receive great online discounts at both Choice Hotels and Wyndham Hotels and Resorts.
Editor's note: For more information, on our member benefits including our regional benefits go to Arizona Farm Bureau's member benefits page online. Or, download the Member Benefits app to your smart phone for easy, everyday access to your benefits.