Membership Matters: Farmers Take Good Care of Their Equipment
By Peggy Jo Goodfellow, Arizona Farm Bureau Marketing Manager: In farming, we know that not all tractors are alike. For instance, for planting season, farmers look for tracked tractors that oscillate and pivot to reduce soil compaction and increase flotation resulting in optimal soil conditions. Tracked equipment also handles different crops and field conditions. And they help save money, time and fertilizer.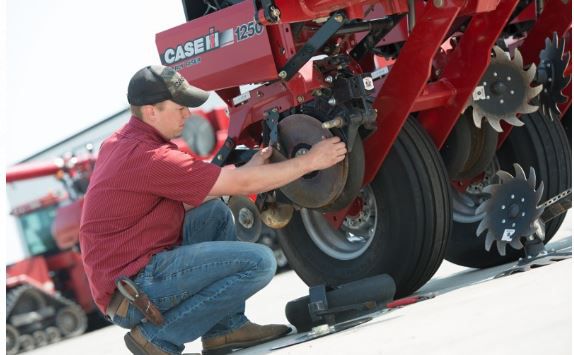 Farm Bureau members can save on select purchases through a Case IH member benefit program. Find a list of eligible models at www.azfb.org then member benefits.
Farmers know that in-season planter maintenance can help prevent time lost to major repairs. When the conditions and weather are right, it's tough to stop for lunch…let alone give your planter a once-over. But it's time well spent.
Here are a few daily inspection and maintenance checks that keep the planter planting.
Do a walkaround. A simple visual inspection can catch trouble early. Look for structural soundness: cracks in the frame, bent shafts or signs of irregular wear.
Make sure all vacuum and seed delivery lines are properly connected — especially after crop changes.
Check that tractor hydraulic lines are properly routed and connected — particularly the fan motor case drain line.
Hit grease points and oil chains according to the schedule.
If you're applying liquid fertilizer via a tube behind the seed shoe, ensure fertilizer isn't building up on the seed shoe, which could affect seed spacing.
Keep an eye on tire pressure. This is critical for proper planter operation and speed control.
Drain moisture from air storage tanks to prevent potential damage to the air clutches.
Check the air filter on the compressor, make sure it is clean and not plugged.
Look behind the planter. Stop and open the seed trench on varying rows, especially after making planter changes or adjustments.

Look for seed-trench opening disks and firming-point depth.
Check seed spacing and placement to confirm seed-meter accuracy and setting.
Confirm covering disk action and seed trench closure
Source: Case IH
Editor's note: For more information on our member benefits including our regional benefits go to Arizona Farm Bureau's member benefits page online. Or, download the Member Benefits app to your smart phone for easy, everyday access to your benefits.