Membership Matters:  Member Benefits in Maricopa County
By Peggy Jo Goodfellow, Arizona Farm Bureau Marketing Manager: It's week ten, in our series of articles that show how to find local Farm Bureau benefits where you live.
Farm Bureau members have over 240 statewide and local benefits available to them. All local benefits are listed by county and by category on www.azfb.org and the FB Benefits app. How exciting!
This week, let's take a look at two cities in Maricopa County: Avondale and Buckeye.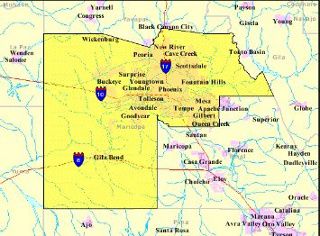 Maricopa County Benefits in Avondale and Buckeye
Avondale

Bravo's Auto Repair: offers 10% off any repair
Come in today for your Free A/C and brake inspection
Bravo's Auto Repair
517 W Western Ave
Avondale, AZ 85323
602-317-9574
Harvest Time Group: 45% off debt reduction analysis report fee
Harvest Time Group
12725 W Indian School Rd Ste E101
Avondale AZ 85392
877-726-7608 ext 1
2 Di 4 Gourmet Karmel Korn: offers $ 1.50 off in-store purchase
506 E Western Ave
Avondale, AZ 85323
623-932-4000
Vern Lewis Welding Supply, Inc: 10% off all regularly priced items (Excludes welders)
10% Farm Bureau discount at these Vern Lewsi Welding Supply locations:
Phoenix, Deer Valley, Avondale, Wickenburg, Prescott Valley and Mesa
For a complete list of addresses go to: www.vernlewis.com
Call 623-932-0341
Buckeye
Advantage Storage: 5% or more on select units
1596 S Watson Rd
Buckeye, AZ 85326
623-223-1183
Allegrucci Law Office PLLC: offers Free initial consultation
A general practice Law Firm since 1990
Three locations to serve you:
Allegrucci Law Office
307 N Miller Rd
Buckeye, AZ 85326
20324 N 51st Ave Bldg 5 Ste 134
Glendale AZ 85308
625 W Southern Ave #E
Mesa. AZ 85210
623-412-2330
Arizona's Choice Chiropractic: 10% off office visit (self pay only)
Arizona's Choice Chiropractic
1300 S Watson Rd #A106
Buckeye AZ 85326
623-386-0444
Bales Hay Sales: offers 10% off any bagged feed purchased at the feed store- Bales Hay Sales
20600 W Beloat Rd
Buckeye, AZ 85326
623-386-2988
Big K's Discount Food: Free coffee (16 oz) or Fountain drink (32 oz) per day
Two convenience store locations to serve you:
Big K's Discount Foods Big K's Discount Foods
101 E Monroe Ave 921 W Main St
Buckeye AZ 85326 Avondale, AZ 85392
Call 623-386-5047
Buckeye is Open for Business (Business guide): $100 off two year advertising agreement
Inlcudes Facerbook posts and press releases
PO Box 264
Buckeye AZ 85326
www.buckeyeisopenforbusiness.com
Email: sharon@buckeyeisopenforbusiness.com
Call 623-393-9433
Buckeye Party: 10% off any rental $50 Minimum
Rent tables, chairs, inflatable bouncy houses and waterslides for your party. Show your membership card and take 10% off.
Buckeye Party
363 S 221 St Dr
Buckeye AZ 85326
602-697-9264
Corner Store: 10% off gas with the purchase of a car wash in the same transaction
Corner Store
1520 N Verrado Way
Buckeye, AZ 85396
623-853-8591
Classic Vinyl: offers 25% off appraisals (westside only)
Classic Vinyl buys sells and appraises collections from the 50s 60s 70s, early Rock n Roll, blues, doowap, funk, jazz, R n B and soul.
50% on first appraisal
29741 W Mitchell Ave
Buckeye, AZ 85396
623-326-6436
Culver's of Verrado & Avondale: Buy 1 get 1 Free any medium size concrete mixer
Farm Bureau members must present their membership card at the time of purchase. Valid only at the Verrado and Avondale locations
Culver's of Verrado Culver's of Avondale
1540 N Verrado Way 1025 N Avondale Blvd
Buckeye, AZ 85396 Avondale, AZ 85323
www.culvers.com 623-792-8649
623-322-8444
Double D Fuel & Oil: Free 32 oz fountain drink with fuel purchase of 10 gallons or more or Receive 20% off Maui Jim sunglasses
824 N First Street
Buckeye, AZ 85326
623-386-4851
Dragonfly Designz Chocolates: 15% off any platter order
Free gift with purchase of $35 or more.
Delicious uniquely creative handmade chocolates for all occasions.
Packages available for corporate, weddings, birthdays, etc.
Email: windi@dragonflydesignz.com
Call 949-394-2938
Form Management Services: 15% off printing or promotional products
22327 W Huntington Dr
Buckeye, AZ 85326
Email: shelly@formsmanagementinc.net
Call 602-526-3402
Hanson Technologies: $50 for computer virus removal (normally $75)
Remote over the internet support
PO Box 1563
Buckeye, AZ 85326
Email: chuck@henson.tech
623-349-4815
Harris' Smokehouse BBQ: Mobile BBQ Trailer
$1 off any sandwich meal or Hoagie meal.
Special event: Pleasant Harbor July 3 Fireworks Show and event 5pm to 10 pm
8708 W Harbor Blvd
Peoria, AZ 85383
www.harrissmokehouse.com Email: bestbrisket@yahoo.com
Call 480-414-8258
Honest Appliance Service & Repair LLC: 10% off parts and labor
General Repair Service that you'll be happy with! Flexible after hours service at no additional charge. Guaranteed service satisfaction. Not a contactor. We also do AC & heating service.
30432 W Verde Ln
Buckeye AZ 85396
Email: linda@honestappl.com
Call 602-814-6504
In Angel Arms: 15% off First 2 months rent
In Angel Arms is a 24-hour care home for seniors and adults specializing in dementia.
22868 W Hopi St
Buckeye, AZ 85326
Call 623-327-9983
Jackrabbit Nursery: 10% off a purchse of $50 or more with proof of membership
Show your Farm Bureau membership card
4421 S Jackrabbit Trail
Buckeye, AZ 85326
www.jackrabbitnurseryaz.com
623-386-4700
Legends Auto : $500 off purchase price
325 N 1st Street Ste 3
Buckeye AZ 85326
Email: finance@legendsautoaz.com
888-660-6674
Preach Building Supply: 10% off pavers, block, artificial grass, rocks
601 N Jackrabbit Trail
Buckeye, AZ 85326
Call 623-853-8300
Ranchero's Rodeo Restaurant: Free Churro with any purchase
416 E Monroe Ave
Buckeye, AZ 85326
Call 623-386-8303
Regal Transportation: 20% off charter or party bus ride up to $100
Have our professional driver transport you and up to 12 friends to and from your special event in
Email: John@buckeyeparty.com
602-697-9264
Roer's Well Scanning: 20% off water well inspection
PO Box 1150
Buckeye AZ 85326
623-703-3558
Sierra Sani Services: offers 10% off first time cutomer for any sanitation service.
PO Box 1447
Buckeye AZ 85326
Email: info@sierrasani.com
602-708-6072
Spa Essentials by Lola: 10% off all pure essential oils
Spa Essentials by Lola is a supplier of aromatherapy accessories, handmade skincare and pure essential oils sourced from the best selected distillers around the globe.
Email: spaessentialsbylola@gmail.com
Call 480-528-0228
Stuffed by You: Free package upgrade for up to 10 guests ($30 value)
Use Farm Bureau code: # SBYAFBUP
Delight in the magic of creating a stuffed animal all your own! Stuffed by You offers an in-home building experiences perfect for birthday parties and other family events.
Email: stuffedbyyou@yahoo.com
Call 480-528-0228
Tire Dawgs Tire: One free flat repair or tire rotation
801 N First St
Buckeye, AZ 85326
623-327-9995
West Valley Tires: Free flat repair and tire rotation with purchase of tires
824 N First St
Buckeye AZ 85326
623-386-6974


Editor's note: For more information on our member benefits including our regional benefits go to Arizona Farm Bureau's member benefits page online. Or, download the Member Benefits app to your smart phone for easy, everyday access to your benefits.