Today's Generational Farm Family & What Inspires Them: The Sossamans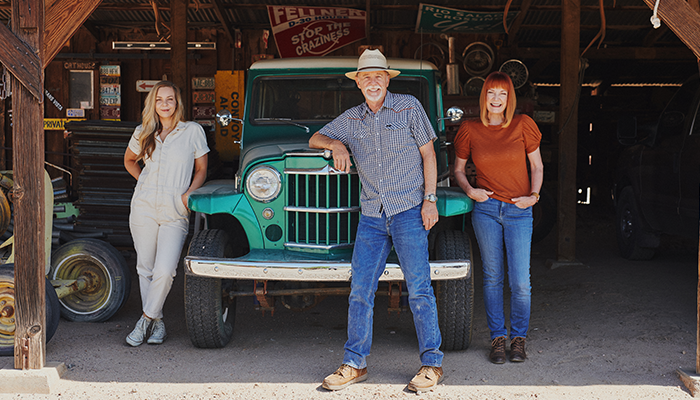 Arizona hosts more generational farm families than you might think. In fact, many of them are in their 5th and 6th generation of farming and ranching in this desert state. One family, we profile here.
The Sossaman Family
The Arizona agriculture history of the Sossaman farm family in Queen Creek is a true legacy of Arizona farming. Lifelong Arizona Farm Bureau members, we begin their history with Jasper and Nancy Sossaman, originally from Oklahoma, who came to Arizona looking for a better life in 1914 after their pig farm near Galveston, Texas, was wiped out in a hurricane. Shortly thereafter, another tragedy hit in 1918 when Jasper passed away, leaving Nancy and three sons to manage by themselves. Luckily, homesteads became available in Queen Creek, and the family obtained not one, but two! Gradually, they extended the farm to 1,000 acres and grew cotton, watermelon, potatoes, Durham wheat, castor beans, corn and sugar beets.
One of the three sons, also named Jasper, married Faith Mather and continued farming. Their only child, Jamie, inherited the farm in 1962. Today, their son, Stephen, and wife, Chris, now manage the farm including their innovative marketing of heritage grains and more.
On politics and service, Jamie and Steve both served as presidents of Maricopa County Farm Bureau and on the state board. Besides farming, Jamie served 24 years in the state Legislature, both in the House where he served as Speaker and in the Senate. In 1992, the Arizona Farm Bureau recognized Jamie for his Distinguished Service to Agriculture.
Jamie's wife, Sue, was also active in county politics during some very turbulent times.
Over the years the farm has always been an innovative family-centered business run by people who cared not just for the land, but also for the community.
And last year, Arizona Farm Bureau awarded the family Century Farm recognition as they have been in continuous operation for more than 100 years. 
Steve and Chris Sossaman's business mantra is, "Say YES to opportunities." It's the best way to meet new people with new ideas. And in this conversation, we talk to Steve and his daughter, Caroline, to discover what it means to be part of a generational farm family. 
Arizona Agriculture: Talk about all the crops the Sossaman family has grown over the generations.
Sossamans: We have grown almost everything over the years: Sugar beets, Cauliflower, broccoli, carrots, potatoes, cotton, corn, alfalfa, triticale, durum wheat, sesame, black-eyed peas, barley, and ancient/heritage grains (white Sonora, einkorn, farro, red fife, for example).
Arizona Agriculture: Caroline, what's your take on your family heritage in farming?
Sossamans: I feel so lucky to be part of such rich Arizona history and to come from a long line of hardworking men and women. Growing up on the farm and seeing how important agriculture is in society has really shaped my life in so many positive ways. I feel proud to be part of such a great legacy of farming and finding my passion for everything grain related. 
Arizona Agriculture: Last year the Arizona Farm Bureau recognized you as a Century Farm during our Annual Meeting. What do you think was/were the key element(s) for ensuring 100 years of continuous business?
Sossamans: Family continuity and a legacy of community service. Always being involved in Agricultural organizations and community organizations (church, local and state politics, charitable groups). Also, a sense of what our forefathers endured to get where we are today through hard work and fiscal responsibility. 
Arizona Agriculture: How'd you get into ancient grains?
Sossamans: I was approached by Jeff Zimmerman of Hayden Flour Mills to grow some ancient varieties of wheat. He tried working with other farmers for two years without success. I said yes just to see what would happen. We've grown alongside them over the last 10+ years; they now have a facility on our farm. 
Arizona Agriculture: Why Arizona and ancient grains?
Sossamans: Arizona is the perfect environment for these grains since their history can be traced back to the fertile crescent in the middle east thousands of years ago. 
Arizona Agriculture: Caroline, why'd you get inspired to be in this aspect of the business?
Sossamans: I spent around seven years helping Hayden Flour Mills become a national brand and learning every aspect of the flour industry. I've always had an interest in where the grain goes - beer, bread, whiskey, etc. - so coming on board with my dad seemed like the perfect next step! 
Arizona Agriculture: Talk about all the diverse markets for Ancient Grains. Who all is using the Heritage Grains?
Sossamans: Markets include craft millers for bread flour, mixes, crackers and porridge. Craft brewers for beer. Distillers for whiskey. 
Arizona Agriculture: Where do you see the market growing?
Sossamans: The market trend is to grow with our population of younger people that appreciate the flavor of ancient/heritage grains and craft/artisan products. 
Arizona Agriculture: What farmers are currently growing some of these unique grains?
Sossamans: Farmers in other states and a few in other countries here in AZ (Noah Hiscox in Coolidge). Grain RD here at Sossaman Farms is the only operation that we know of in the valley. Our grain operation is vertically integrated: selecting the seeds, growing them, processing/cleaning to food grade, and shipping to our customers directly. We are also home to Hayden Flour Mills which stone mills our grains into flours and mixes. 
Arizona Agriculture: Where will Sossaman Farm be in another 100 years?
Sossamans: Sossaman Farms will probably just be a memory along with the other farms that once called Queen Creek home. We will have a heritage corner on the original homestead. Restaurants, shops, and educational opportunities will showcase agriculture and focus on grains. Think places for beer, pizza, tortillas, baked goods, etc. 
Arizona Agriculture: You all have the entrepreneurial bent; Chris has her tea business. Talk about this.
Sossamans: Chris is very talented, and we have always been serial entrepreneurs. Together we have over 5 businesses. She has her Tea Royalty plus a commercial property enterprise. We farm, have Grain R&D, plus I do land development. We both get a little inspiration from our grandparents. 
Arizona Agriculture: Where is Arizona agriculture in 100 years and what might be the major crops then?
Sossamans: My crystal ball broke a while ago. Farming will follow the water and probably be more intense and mechanized. 
Arizona Agriculture: What do you love in general about farming and ranching in Arizona?
Sossamans: The people that are part of agriculture are some of the finest we have met. All over our country and here in Arizona. Plus, farming in Arizona is year-round, not like other parts of the U.S.! 
Editor's Note: Their story was recently featured on KTAR's Rosie on the House Show during the "Farm Fresh" hour.