USDA's Record Corn Crop Report: Its Impact on Arizona Agriculture?
By Julie Murphree, Arizona Farm Bureau: The August World Agricultural Supply and Demand Estimates (WASDE) report indicates a record corn crop, released yesterday by the United States Department of Agriculture (USDA).
The impact of the WASDE report won't have as dramatic an impact on Arizona agriculture in terms of commodity pricing since we're not a large corn and soybean growing region. However, lower corn prices (due to the increased estimate on corn production) should help ranchers and livestock producers that purchase lots of corn for feed. So raising quality Arizona beef might not be as expensive for our ranchers!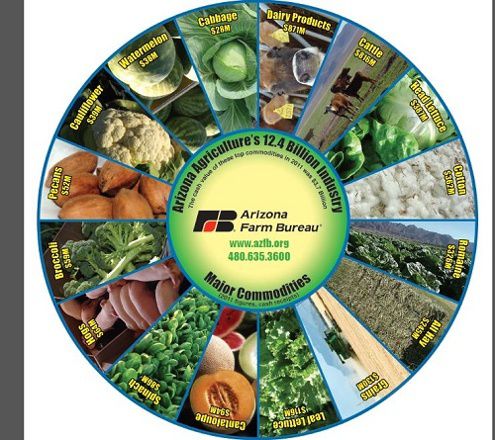 While Arizona grows field corn for livestock, the Midwest is the major region for corn and soybean farming. In Arizona, our top farm commodities include, dairy, beef, an array of leafy greens including leaf lettuce and romaine lettuce and a variety of fruits.
"Up to this point, USDA has been using a statistical model for corn that predicts yield based on planting date, rainfall and temperature during the growing season," said Todd Davis, American Farm Bureau Federation economist. "The August report, through the rest of the year, will incorporate farm production information in the supply and demand estimates."
August's WASDE report projected the 2013 corn crop at 13.763 billion bushels, which would be a record crop, if realized, and a 2.98 billion bushel increase from 2012's drought-stricken crop. The report estimates the 2013 corn yield at 154.4 bushels per acre, a reflection of the late planting season and cool, dry weather in the western Corn Belt, according to Davis.
The USDA report predicts 2013-14 corn ending stocks to drastically increase from 719 million bushels for 2012-13 to 1,837 million bushels, elevating the stocks-to-use ratio from 6.4 percent to 14.5 percent.
"This means that the U.S. corn market is likely to go from a 23-day supply to a 52-day supply of corn. This increase in stocks will cause prices to decline from a marketing-average price of $6.95 per bushel for 2012-13 to a projected $4.90 per bushel in 2013-14," said Davis.
This is making some market analysts to predict a continuing collapse in corn prices. A year ago around this time, corn was selling for around $8.30 a bushel. Last Friday it closed at $4.65 a bushel.
Corn demand began in earnest in 2008 which then resulted in our farmers planting more corn. The WASDE report estimates close to 14 billion bushels, up from nearly 11 billion bushels in 2012 and 12.4 billion bushels in 2011. What a difference a year makes!
Demand in Corn Needs a Boost
So then, global demand for corn should satisfy this nearly 3 billion bushel increase in corn, right? Some contend this may not come from the usual sources. Cattle ranchers have reduced their beef herds as corn prices rose, and you can't bring a cattle herd back to previous numbers overnight. Plus, some ranchers may not want to bring back herd size. One reason, prices for their "feeder" cattle are stronger than ever before; supply and demand means that more cattle will push the price down again.
On the ethanol front, its production takes about 30 to 40% of the U.S. corn crop. But even that production has hit a plateau because people are driving less, pushing down demand.
On the Soybean Front
The 2013 U.S. soybean crop is projected at 42.6 bushels per acre, up 3 bushels per acre from the 2012 yield. The soybean crop is estimated at 3.225 billion bushels, up 240 million bushels from 2012 by 104 million less than the production record set in 2009.
The 2013-14 soybean ending stocks are also expected to increase, though not as sharply as corn, from 125 million bushels in 2012-13 to 220 million bushels in 2013-14. In turn, the stocks-to-use ratio also will see an increase from a threadbare 4 percent for 2012-13 to 6.9 percent for 2013-14. The projected marketing-year average prices are expected to decline from $14.40 per bushel for 2012-13 to $11.35 per bushel for 2013-14.
"Due to the late planting season for both corn and soybeans, especially in the western Corn Belt, farmers should expect future reports to provide more accurate estimates that may differ significantly from Monday's estimate," said Davis. "While the 2013 corn and soybean crops do not look excellent everywhere, the corn and soybean markets are anticipating much larger crops, which will lead to lower prices and tighter profitability margins for 2014."