Where's the Beef in Arizona! A Recent Study Can Tell You
By Julie Murphree, Arizona Farm Bureau: Thanks to a recently-completed study by the University of Arizona's Cooperative Extension, Department of Agriculture and Resource Economics, we can tell you just about everything you ever wanted to know about Arizona's beef industry – at least it's economic impact to our state.
It's a pretty impressive story, thanks to the researchers on the research project, "The Contribution of the Beef Industry to the Arizona Economy:" Ashley Kerna, George Frisvold, Russell Tronstad and Trent Teegerstrom.
Say the researchers, "Cattle ranching remains an important part of Arizona agriculture, making a variety of economic contributions to Arizona county economics and to the state economy as a whole."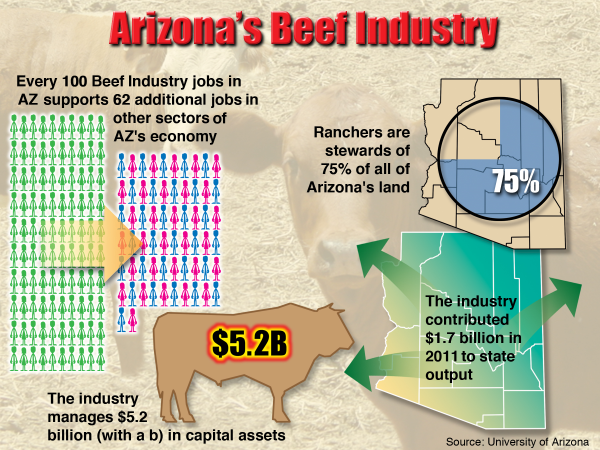 Key findings in the study ...
The full report breaks down economic information for each county and gives total operations with sales, cattle sales and percentages. The report also gives insights into our state's five cattle regions: Strip, Plateau, Central Mountain, Western Desert and Southeastern.
What Did the Study Find?
The major findings in the report provide a great overview of what our cattle industry is contributing to Arizona.
?The total market value of capital assets of Arizona beef cattle operations is more than $5.2 billion. These assets include land, buildings, and machinery.
?The value of these capital assets average more than $1.2 million per ranching operation.
? In addition to these capital assets, the Arizona beef industry manages 71 percent of the state's cattle and calf inventory, which is valued at more than $1 billion (with the dairy sector managing the remaining 29 percent). These inventories represent valuable assets that can be placed at risk by prolonged drought or weather extremes.
? Grazing is the dominant land use in Arizona. Grazing land makes up 73 percent of Arizona's total land area and approximately 98 percent of Arizona's total agricultural land, with cropland accounting for the remaining 2 percent of agricultural land.
?In 2011, Arizona cattle and calf sales surpassed $800 million.
? Direct cattle and calf sales represent only part of beef industry output. Input-output analysis was used to estimate the contribution of the entire beef industry to Arizona's economy. The total contribution to state output of the beef industry was $1.7 billion ($1.2 billion in beef industry sales and $0.5 billion in sales stimulated in other sectors of the Arizona economy).
?The beef industry contributed $431 million to Arizona's GDP (or value added).
? Every 100 workers hired by the beef industry create 62 additional jobs in other industries in Arizona. Beef industry proprietors' contribution to total state employment was 8,758 hired jobs—5,411 jobs directly related to the beef industry and an additional 3,347 jobs created throughout the state in other industries.
?Approximately 21 percent of all farms in Arizona specialize in beef production. By specialize, we mean that more than half of farm sales come from the sale of beef cattle. Farms specializing in beef production are the third most numerous type of all agricultural operations in Arizona.
?Of all Arizona operations with sales in 2012 (the most recent Census of Agriculture data available), there were 3,364 operations with sales of cattle. This ranks operations with cattle sales as the second most numerous type of agricultural operation in the state. Operations with cattle sales were the most numerous agricultural operation in seven of Arizona's 15 counties.
?In 2012, cattle and calf sales accounted for 18.8 percent of total agricultural sales in Arizona, ranking third in sales among all agricultural commodities. In five of 15 counties, however, the sale of cattle and calves ranked first in agricultural sales.
?In 2011, the total number of cattle commercially slaughtered in Arizona was 565,000 head, producing a total live weight of more than 721 million pounds.
?Economic base analysis identifies which industries are basic: industries that generate relatively more jobs than the national average and bring money from outside the region into the local area. Outside of the urbanized, metropolitan areas (Maricopa and Pima counties) and Mohave County, where specialization in mining is important, ranching remains a basic sector in Arizona county economies. Arizona's remaining 12 counties are more specialized in cattle production than the nation as whole and employ relatively more people in ranching. Looking only at state averages can understate the continuing importance of ranching in Arizona's rural counties.