THE MISSION: Arizona Farm Bureau's Educational Farming Company's mission is to educate the public of all ages about the importance of Arizona's agriculture through educational programs that teach about the production of food, fiber, and natural resources highlighting Arizona agriculture's diversity and dynamic. The Educational Farming Company is a 501(c) 3. To learn more, check out this short VIDEO!
Donate
When you make your Online Donation, We will send you a receipt for your tax records. Thank you!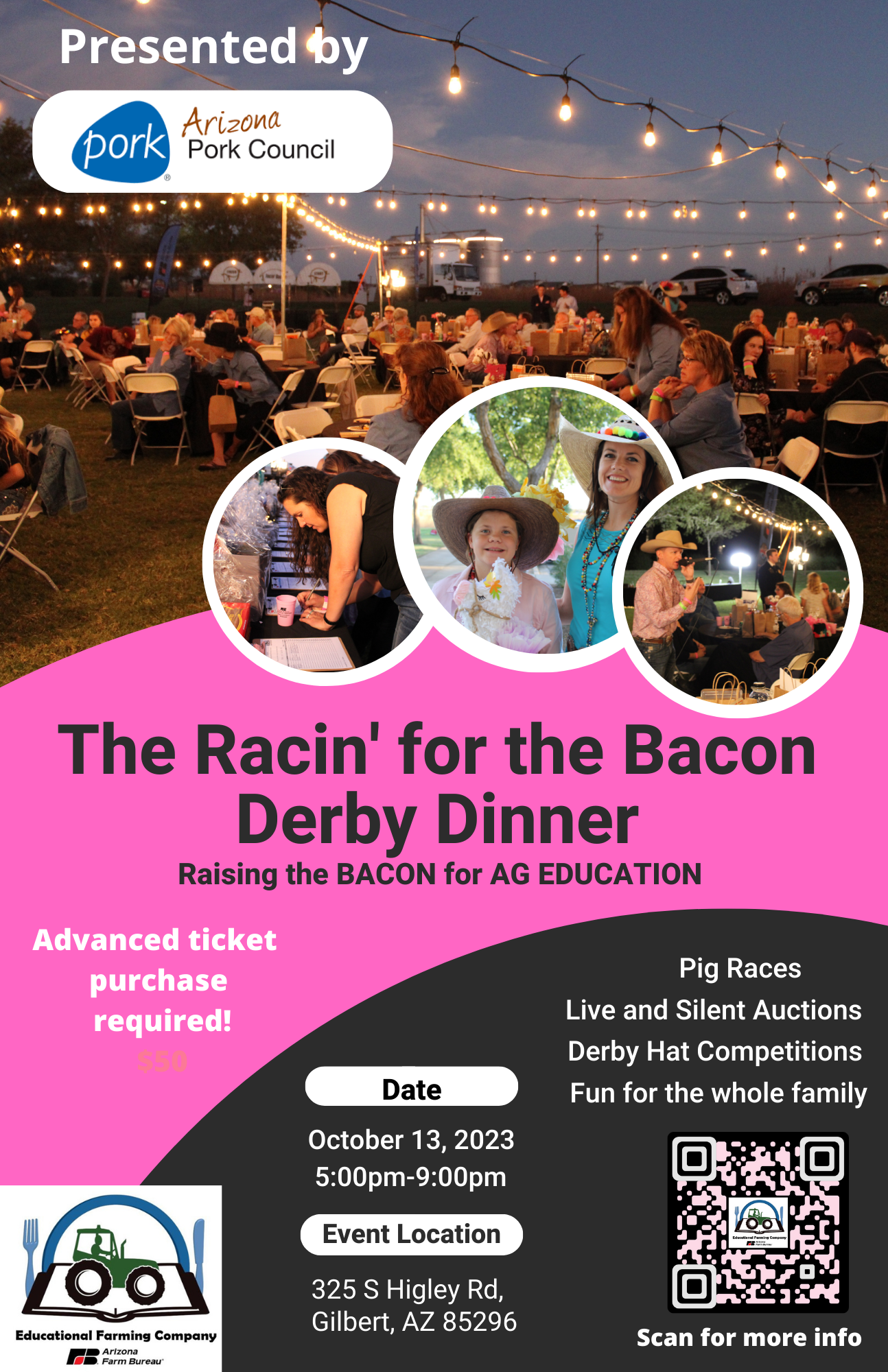 Join us Friday, October 13th as we raise funds for ag education through the Racin' for the Bacon Derby Dinner! This one-of-a-kind event brings together farmers, ranchers, and consumers for a night of pig races, silent auctions, live auctions, food and fun. Oh, and don't forget about our Derby Hat Competition! Tickets for the event are $50 and ALL the proceeds go to bring agriculture into the classroom!
It is only fitting that the Racin' for the Bacon Derby Dinner would be Racin' the Bacon!  Our Pig Races allow attendees to select their choice of pig for each of 5 races. If your pig wins you get extra raffle tickets for a chance at some fun pig prizes. Who doesn't want to see Kevin BACON, Mia HAMM, Tammi SWINEtte, and others race around the track?!
We are excited to once again have Bruce Cain and the Farm Bureau Grill Team serve a spectacular Dinner complete with pulled pork, dirty rice, creamed corn, green salad, and a roll. And don't forget about the fabulous desserts topped off with bundtinnies from Nothin' Bundt Cakes. You can sip your way through dinner with some Danzeisen lemonade, Old Ellsworth Brewing brews, or one of our Arizona Wines. 
Who doesn't love a Silent Auction?! Our unique Silent Auction features many Arizona Grown products from wine, to honey, to beef, to pistachios and pecans, and more. Be sure to bid early and bid often on the coveted mesquite wood charcuterie board made from wood harvested from our very own President Smallhouse's ranch!
Our Live Auction features....
Don't want to wear a hat? That's OK! Those that do will be entered into our Derby Hat Competition. This is your chance to walk the runway and win some fun prizes. Go fancy or get creative with an Arizona Agriculture theme. All kids that attend wearing a hat will receive a prize.
Annual Report 2022Annual Report 2021 Annual Report 2020 Annual Report 2019